Publisher: APCNews
Published on
Page last updated on
Internet-related and ICT policy processes protect the publicness of the internet and are accessible, democratic, transparent, accountable and inclusive. This is a compendium of the highlights from APC's Annual Report for 2018.
The 6th African School on Internet Governance built up participants' negotiation skills
The Sixth African School on Internet Governance (AfriSIG) took place in Zanzibar from 11 to 16 October 2018 with the participation of 34 fellows from a range of sectors and backgrounds and 21 faculty members. The highlight of the School was a practicum in which participants had to tackle an actual internet-related policy challenge and come up with an agreed solution or statement. The programme also included a session on gender and internet governance and the use of the Feminist Principles of the Internet as a tool for applying a gendered lens to internet governance. It also addressed the potential of community-based and local infrastructure initiatives to respond to the persistent digital exclusion problem.
As pointed out by the 2018 participants, the most valuable outcome from the School was the learning of new skills and gaining a deeper understanding of multistakeholderism, negotiations and reaching consensus. They also highlighted the opportunities offered for networking, learning from the experiences of peers, as well as learning from experts. The reflections and takeaways shared by AfriSIG 2018 participants attest to the school's impact and importance. Read all the blog posts from the 2018 participants here.
AfriSIG has also propelled internet governance conversations in national contexts throughout Africa. In the past few years, schools have sprung up in Kenya, Tanzania, South Africa and West Africa, organised by alumni who bring training and expertise gained at AfriSIG back to their local jurisdictions.
Image: Caleb Olumuyiwa Ogundele.
Key contributions at the Internet Governance Forum for a more effective and inclusive internet governance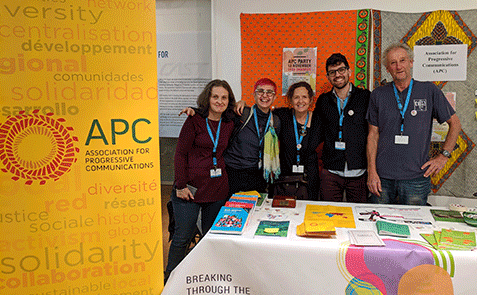 APC continues to see the Internet Governance Forum (IGF) – both as an annual global event and a multitude of national, regional and intersessional processes and events – as critical for bringing together key stakeholders in physical and digital spaces for policy dialogue, collaboration, capacity building and networking.
In 2018, APC engaged actively in these spaces that culminated in the global IGF that took place in Paris, France, from 12 to 14 November. This event was valuable for networking, forming new relationships, as well as connecting with existing partners, taking stock and planning further collaboration, in addition to opportunities for bilateral consultations and meetings and to talk with UN actors. In line with its priorities for the 2018 IGF, APC organised and participated in several workshops and meetings related to access, human rights, gender, cybersecurity, and strengthening inclusive, interconnected internet governance processes.
Throughout the year, APC was also involved in community intersessional activities such as the Dynamic Coalition on Community Connectivity, the Dynamic Coalition on Gender and Internet Governance, the Best Practice Forum (BPF) on Cybersecurity, and the BPF on Gender and Access, which was very valuable for continuity and ensuring that the work moves forward.
The IGF was also the scenario where APC launched the 2018 Global Information Society Watch report on community networks providing analysis of the many ways to "do-it-yourself" to end digital exclusion. APC also hosted with Hivos/Digital Defenders Partnership a Disco-tech pre-event on disability and accessibility to the internet which, along with the Point of View-organised session "I Can't Use This App: Closing The Web Accessibility Gap", sparked important conversations around internet accessibility.
Image: APC.
Sustained commitment to internet governance processes in Africa, Asia and Latin America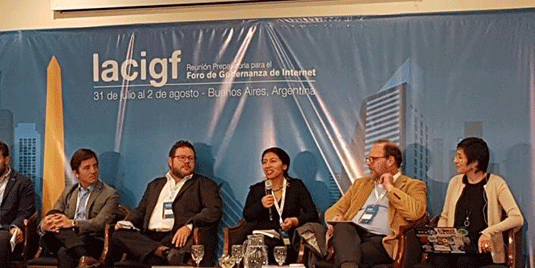 In 2018, APC members and staff helped to organise and participated in regional internet governance forums around the world.
The 11th edition of the Latin American and Caribbean Internet Governance Forum (LACIGF) was held from 31 July to 2 August 2018 in Buenos Aires, Argentina. APC participated in the Programme Committee for the LACIGF, and led the organising of sessions on algorithms and their impact on social equity, disinformation and its impact on freedom of expression, and developments, challenges and perspectives of managing community networks.
APC staff and members were involved in several workshops and sessions at the Asia Pacific Region Internet Governance Forum (APrIGF), which took place in Vanuatu on 13-16 August 2018. The theme of the event was "Empowering Communities in Asia Pacific to Build an Affordable, Inclusive, Open and Secure Internet", and APC raised important issues around freedom of expression, privacy and ICT laws in Asia, online gender-based violence and internet platforms' responsibility, and digital cooperation. APC actively participated in the Multistakeholder Advisory Group (MAG) and Programme Committee for the APrIGF and was also extensively engaged in the drafting of the outcome document.
The 2018 African IGF took place in Khartoum, Sudan on 4-6 November. The seventh edition of the event brought together over 300 participants under the theme "Development of the Digital Economy and Emerging Technologies in Africa". APC facilitated sessions on human rights, internet shutdowns and community networks, and supported a feminist protest at a main session, as well as moderating a panel on trust and security.
Image: Panel on community networks during the LACIGF 2018.
More civil society actors from the global South influenced internet governance and ICT policy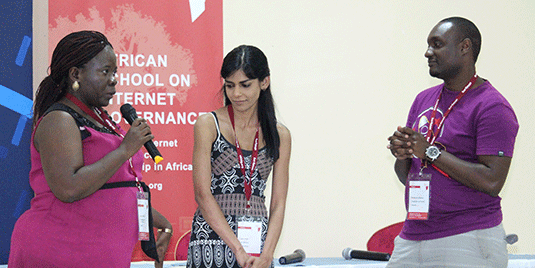 Representation and meaningful engagement from the global South in internet governance processes have a significant impact in favour of a more inclusive, transparent, accountable and rights-responsive internet. Following this principle, APC supported and facilitated the participation of over 60 civil society organisations and actors from the global South to meaningfully and effectively engage with internet governance processes.
APC facilitated the participation of at least 10 civil society actors and activists at national, regional and global Internet Governance Forums, leading to increased participation of diverse voices at these events, and also supported the participation of 20 women's rights, sexual rights and internet rights activists among APC members and partners in regional and global internet policy and governance processes. APC members were also able to participate in a wide range of events such as the Internet Freedom Festival, RightsCon, the UN High Level Political Forum, the Forum on Internet Freedom in Africa, Feminist Tech Exchanges and the African School on Internet Governance, as well as global and regional Internet Governance Forums, due to APC's support.
APC members, staff and other partnering civil society actors played important roles in convening and organising internet governance processes nationally, regional and globally through participation in the IGF Multistakeholder Advisory Group and Best Practice Forums, as well as regional multistakeholder steering committees and drafting committees. This participation resulted in increased and more diverse presence of civil society voices and perspectives in internet governance forums as panellists, speakers, organisers of sessions, and active members of IGF intersessional dynamics. One significant outcome of APC's impact in 2018 was the inclusion of a community networks main session at the LAC IGF for the first time.
Image: APC. AfriSIG participants during the School in 2018.
New framework for civil society actors to assess and advocate for internet on a national level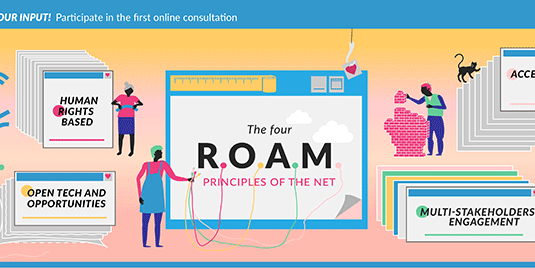 In 2018, UNESCO member states endorsed the Internet Universality Indicators. These core principles were developed by APC on behalf of the Internet Indicators Consortium, a group that includes ICT Development Associates, Research ICT Africa and LIRNEasia. Led by David Souter, the project involved multiple consultations, as well as pre-testing and piloting of indicators over an 18-month period. Several APC members contributed as well to the development of the indicators during the consultation process. The framework is intended to enable civil society actors to assess and advocate for internet on a national level that adheres to the ROAM principles (Rights, Openness, Access and Multistakeholder).
The final report of the UNESCO Internet Universality Indicators was approved by the International Program for Development of Communication Council during its 31st session on 21 November 2018.
Image: APC for UNESCO.
Reinforced inclusion, transparency and respect for human rights for a free and open internet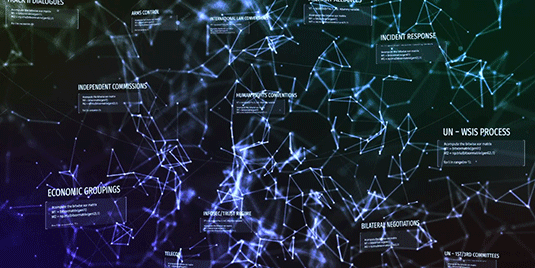 APC contributed to outcome documents, conclusions and recommendations that reinforced inclusion, transparency and respect for human rights as key elements of a free and open internet.
In addition to the contributions made to UNESCO's Internet Universality Indicators, APC contributed to normative documents on cybersecurity. APC helped to shape international cybersecurity standards by participating in the Global Commission on the Stability of Cyberspace's norm on the protection of the public core of the internet, which was included in the Paris Call for Trust and Security in Cyberspace and gained the support of the European Parliament. Due in part to APC's advocacy, the Paris Call includes a relatively strong human rights focus and recognised the importance of community networks, the gender access gap, and the protection of online privacy as important emerging topics of relevance to implementing World Summit on the Information Society (WSIS) goals.
Image: Screenshot of video by the Global Commission on the Stability of Cyberspace.
Looked deep inside the information society with David Souter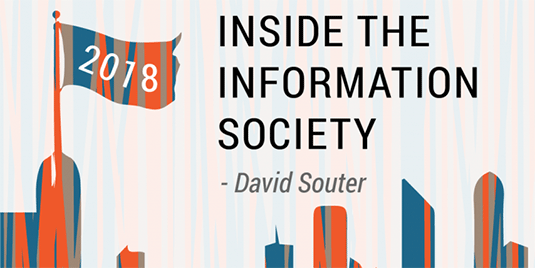 "Looking back or looking forward?" was the title of the first piece in David Souter's column on APC.org, Inside the Information Society, published more than three years ago. Inspired by this question, the blog has continued to feature articles – including 26 in total in 2018 – on issues ranging from jobs and employment policies in the digital age to the impact of the internet on democratic politics and growing up online, all with a cross-cutting human rights-based approach to ICTs.
In early 2018, Souter summarised current trends in the Information Society as follows: "We used to see the Internet as all important in the Information Society, because it was the cutting edge at the time of the World Summit on the Information Society (2003/2005). The cutting edge today's with other new technologies – artificial intelligence, robotics, algorithms, big data, 'smart' systems, autonomous vehicles, coming trends like quantum computing, the interface between information technology and sectors like biotechnology. These make use of the Internet but they do not belong to it; the Information Society is a bigger and more powerful phenomenon than Internet and is no longer driven by it."
For three years now, the Inside the Information Society column has been exploring what's happening in this rapidly changing environment and questioning the assumptions that underpin our thinking. Souter's writings take a fresh look at issues that concern APC, its members and the wider APC community, which in 2018 included the entries available here.
Image: APC.
To watch out for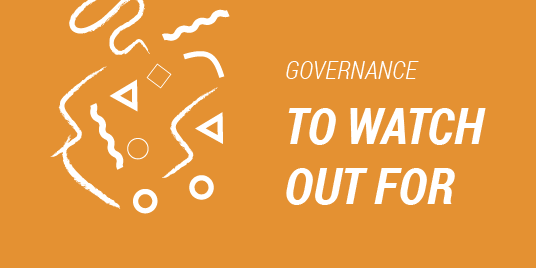 As 2019 progresses, planning for the major regional internet governance events and the global IGF is well on its way. For our part, APC is looking ahead to see how we can support our members and leverage key events in order to influence more inclusive, transparent and democratic internet governance processes worldwide.
APC will be working directly with several national and sub-regional internet governance schools in Africa to provide advice and support, and will also be participating in the first ever North American School of Internet Governance taking place in November 2019 in Montréal, Canada.
The 7th edition of AfriSIG will be held in September in Chad, immediately prior to the African Internet Governance Forum, the 2019 edition of European Summer School on Internet Governance (EuroSSIG) is to be held in Germany, AprIGF 2019 will take place in July in Russia, the LACIGF will be held in August in Bolivia, and the 14th annual global IGF is scheduled for 25-29 November in Germany. These are just some of the spaces where APC and its members will be actively engaged throughout 2019.
APC will also support and engage in initiatives aimed at applying the UNESCO Internet Universality Indicators at national levels, particularly in Latin America.
Check back as we prepare for and reflect on another season of forums, schools and events exploring the best way to collectively govern our complex, evolving digital world.