By APCNews
Published on
Page last updated on
With heavy hearts, we learned this week that Scott Weikart, one of the indispensable ones who made the Association for Progressive Communications (APC) possible, has passed away.
"Scott was one of the quietly brilliant social justice techies who helped build the foundations of what we would now call APC's autonomous self-managed infrastructure – the backbone of the APC networks communication infrastructure and means of sharing information around the world," says Karen Banks, currently the APC operations director. Scott was one of the people who had the internet vision of global communications unfettered by commercial barriers. He contributed to growing the APC network through the work he did with his late partner Jo-Anne Scott and other early APC people at the INET developing country workshops. Scott provided consistent and instrumental technical support for former and current APC members like Alternex, Colnodo, Pangea, LaNeta and so many others.
We have all heard at some point that APC was formally founded in 1990 by the Institute for Global Communications from the United States, GreenNet from the United Kingdom, NordNet from Sweden, Web Networks from Canada, Alternex/Ibase from Brazil, Nicarao/CRIES from Nicaragua, and Pegasus from Australia. And this history can actually be traced back to 1985.
Soon after he got his PhD in Computer Science in 1979, Scott founded Community Data Processing with Dave Offen in 1981. They used partly working hardware discarded by Hewlett-Packard's research centre to cobble together (what we now call) servers. They used these machines to offer tools to activists working on the environment, women's rights, and supporting the people of Central America in their struggles against violent dictatorships. Then Scott became the technical director at PeaceNet, a network of US peace activists born in 1985, which merged a year later with the environmentalist network EcoNet to form the Institute for Global Communications (IGC).
Mitra, a GreenNet founder, and Mark Graham, one of PeaceNet's founders, had been discussing working together. During 1988, Scott discovered by accident that GreenNet was running the exact same kind of computer that PeaceNet and EcoNet were run on – a Plexus minicomputer. "Scott packed a 300 megabyte disk with all the software," said former PeaceNet director Geoff Sears, "and hauled that off to London to start a transatlantic digital communications network running." This is how one of the first NGO-owned communications systems between continents was created, recalls Brian Martin Murphy, an academic from Canada who followed the development of APC closely since the mid 1990s.
Community Data Processing evolved into PeaceNet, which evolved into the IGC and the broader network of APC. And with every organisational iteration, the seeds that Scott had planted continued to blossom and more people around the world benefited.
In 2001, Scott joined Benetech as senior systems administrator, where he designed and implemented all non-Java code needed to run a Martus Server, before transitioning to consultant. He did data processing of datasets used by Human Rights Data Analysis Group projects, with an emphasis on automated techniques to clean and canonicalise data, de-duplicate datasets, and link records between datasets. He designed, built and ran Unix and GNU/Linux servers and storage systems for 25 years.
Scott is remembered by his colleagues as a free software legend, a boundlessly generous and kind person who, alongside his technical work, was a gifted teacher who regularly shared his encyclopedic knowledge of Unix techniques and ideas with everyone. He was also a loving husband, who gave extraordinary care to his partner Jo-Anne in the last years of her life.
"Scott was among the key people in the creation of APC, and in technical support for our AlterNex and Eco'92 'adventures' in the early 90s. Scott was 'a top hacker' in the words of our colleague Saliel Figueira Filho, who led the Brazilian technical team in the Eco'92 project. But he was much more than this – a key compa in the journey to universalise communication and information," expressed Carlos Afonso, who was also part of APC's foundational moments as part of Brazilian-based Alternex/Ibase.
We invite all of you who met Scott and have stories to share to please send them using this form, so we can collect them in this article and collectively craft a memorial that does justice to the contributions he made to this field and the lives he influenced for the better.
Read this article about Scott Weikart from Network World, 1992 (sent by Mark Graham)
"The memory that pops into my head is: sitting at IGC in the Presido with Scott and then seeing him jump up, saying: 'I need to go fix a server in Mountain View.' It was probably my first trip ever to San Francisco — which I thought of as a magical place filled with activist techies, thanks to knowing Scott. Hundreds of trips and more than two decades later, I've seen so many sides of San Francisco. Despite all the greed and navel gazing on the surface, it still feels like that activist magic is there, in corners, underneath. When I think of that, I think of Scott." - Mark Surman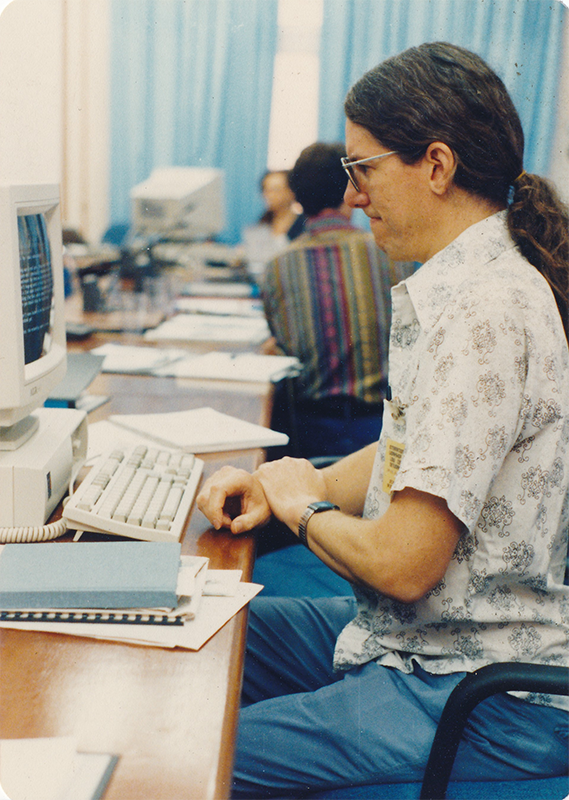 Scott at the International Conference on Low-cost Networks, Kuala Lumper, July 1993.
"It is with immense sadness that I share with you one of my very few and most precious memories of Scott. Scott joined us in 1993 for Interdoc's International Workshop on Low-Cost Networks held at the Islamic University, Kuala Lumper, July 1993. When not sharing stories with us in the 'men's guest compound, I would find him at a PC, sharing his generous experience with the numerous projects that had sprung up in the Asia-Pacific region. I recall Scott as a gentle, deeply considered man who led, from all accounts, a well-examined, fulfilled life in service to the common good. As I learned from the posts here, he was also a man of great humility. Having recently spent, all up three weeks, cataloguing and annotating Ian Peter's archives, there were plenty of references to Peacenet's early pioneering work, but not once did I find a reference to Scott specifically, that which Karen so aptly described as one of the quietly brilliant social justice techies who helped build the foundations of what we would now call - APC's autonomous self-managed infrastructure.' I wonder if Scott and Roberto 'Obet' Verzola knew how similar they had been, both "quietly brilliant", near simultaneously building computers in the early 1980s by whatever means, in San Francisco and Manila respectively, literally chipping away at the social justice outcomes they too shared? Remembering Scott well, with respect and love." - Andrew Garton
"Scott was an amazing human being in so many ways. I remember his good sense of humor, deep laugh, love of life, dedication to causes, and his being a fun person to be around. I had the privilege of working with him from 1991-1997 at the Institute for Global Communications. He could explain highly technical things to those of us who didn't have that training without making us feel less than. I love the phrase Cindy Cohn wrote, 'He was boundlessly generous.' I remember him with a smile and a big heart. Rest In Peace, Scott!" - Martha Loughridge
Read more about APC's history.
Image: Scott in HRDAG website.