By ORCAL

Published on
Page last updated on
As part of the "Connecting the Unconnected: Supporting community networks and other community-based connectivity initiatives" project, 11 community network initiatives were selected in 2019 to receive catalytic intervention grants, aimed at supporting innovative, sustainable and gender-aware uses, developments and appropriations of technologies to strengthen a diverse and sustainable community network movement. Specifically, these grants aimed at exploring activities that were advancing community networks around the role of women within networks, collaborative mechanisms for dispersed communities to work together on open source tools, improved access to spectrum, local content development and technological innovation. You can find more detail on the different types of initiatives funded here.
We are sharing stories from the participating organisations about the local impacts of the work they carried out with the help of this funding. This story was collectively crafted by representatives of the various community networks that joined together to create a catalytic intervention initiative called the Latin American Community Networks Organisation for Technological Appropiation (ORCAL).
If we can give a name to 2019, we could say that it was a year of gatherings; that is to say, a space in time where many stories, experiences, lives and dreams involving community networks converged. It's not that we haven't come together in the past, but 2019 was special.
The meetings started in Kenya, where the representatives of different organisations from Asia, Africa and Latin America that formed part of the peer community of the "Connecting the Unconnected: Supporting community networks and other community-based connectivity initiatives" project, implemented by APC in partnership with Rhizomatica, met to kick off our processes in the framework of the project.
Some of us had already met elsewhere, giving us the opportunity to talk and even to work on some issues. But Kenya gave us another chance to get to know each other, to see a little more in depth what each one was doing in their countries and areas, even to share the care of the children who accompanied people taking part in the meetings.
The Latin American organisations present, from Brazil (Coolab and IBEBrasil), Argentina (AlterMundi), Colombia (Colnodo) and Mexico (REDES AC), discussed at length how to strengthen the links between us and with other Latin American groups working in/with community networks, how to stop competing and work more collectively to access resources, and how to sustain our processes together and share more fluid feedback.
One of the dynamics of the workshop gave rise to the acronym ORCAL (Organización de Redes Comunitarias de América Latina, or Organisation of Latin American Community Networks) and to a drawing made collectively among peers in which our roots, our experiences, what feeds and sustains us – each from our own areas and communities – merged together, so that the fruits are also shared, which will mature and nourish the group, enriched by the contribution of all.
That is how we left Kenya, eager to continue talking, to get together more, to not only learn about but to live each other's experiences, live and in person.
Connecting the Unconnected peer learning community members from Latin America and other regions at the meeting in Kenya.
On 4 May, after we had returned home, a group was created on Telegram to continue the conversation, knowing there would be more meetings among those of us who were part of the APC project, and with the desire to also work with other friendly organisations, to take advantage of the opportunity to strengthen efforts and continue advancing in policy and development issues, in sharing knowledge and building collectively, with the certainty that we had people, technologies and experience.
The group was joined by other people and organisations, so we were getting to know each other virtually, and continuing the conversation.
When the opportunity arose to create a proposal for strengthening community networks, we decided to present an application as a joint project for a Connecting the Unconnected catalytic intervention grant. With virtual meetings in "Portuñol" (a mix of Portuguese and Spanish), we gave it shape, adding ideas, needs and dreams, and began to write. We also collectively decided to expand the opportunity to other organisations: InterPueblo from Ecuador, Universidad de Oriente from Cuba, Rede Moinho from Brazil and NuestraRed from Colombia came on board. Time constraints, language issues, the limited connectivity in Cuba, and hashing out agreements and responsibilities posed challenges that we had to overcome in order to present the proposal on time, between tasks, trips, misunderstandings, agreements, conversations, translations, schedule changes... but we did it!
Then, while some of us were taking part in a community networks seedbed organised by REDES AC and AlterMundi, we got the news of the pre-selection and reduction of the amount of the proposal. After that came more adjustments, talks, fixes and translations before we were finally excited to access the fund to move forward with the activities. The application process was then closed and the acronym became part of the project's name: "Organización de Redes Comunitarias de América Latina por la apropiación tecnológica" (Latin American Community Networks Organisation for Technological Appropiation).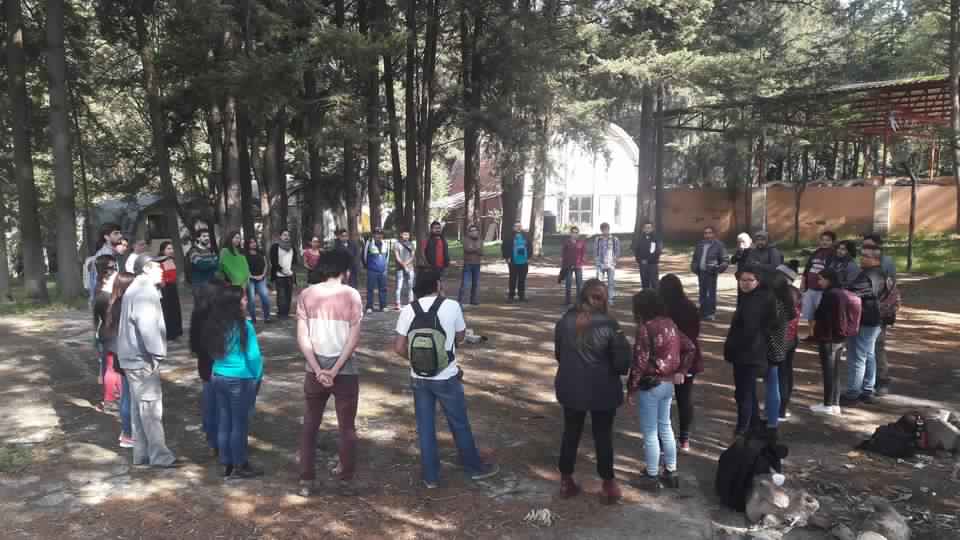 A scene from the Abya Yala Community Networks Seedbed event. Photo: AlterMundi
One of our main proposals was to work collectively on the homologation, testing and development of the LibreRouter and LibreMesh in Latin America, projects that have been led by AlterMundi and that have inspired and supported many of our processes, and in which we see possibilities for the sustainability and autonomy of the networks. Other activities such as participation in public policy discussions, as well as the development of methodologies and training work, were also included.
All of the organisations had the opportunity to gather again, back in 2019 when that was possible, at the second Latin American Summit of Community Networks in Colombia. The peers also got together in other Connecting the Connected project spaces for sharing, such as the peer exchanges.
During the project, each organisation got a number of LibreRouters with which we did extensive testing and there was a great deal of interaction between the different community networks in Latin America. We also shared methodological tools, for the design, dialogue and planning around the networks, and for confronting the fear of the challenges posed by programming through a fascinating learning dynamic called Coding Dojo.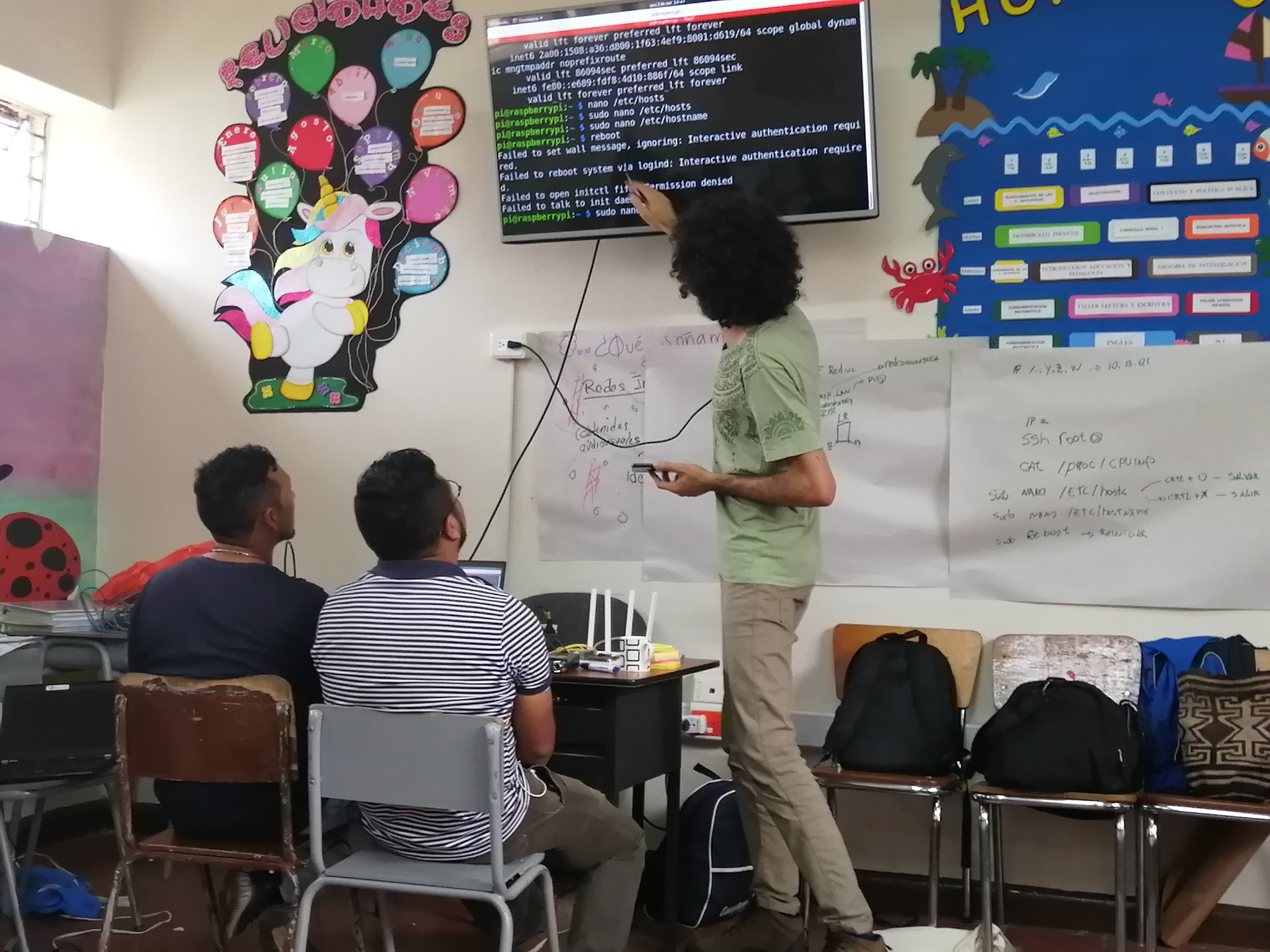 In Brazil, as a result of the project, progress was made with ANATEL, the telecoms regulator, which published a guide for the regulation of community networks on its website.
Several actions initiated during the ORCAL project are ongoing today, as their focus goes beyond the project and is part of our collective commitment to community technological autonomy. To mention a few, we are still seeking the legalisation of the entry of LibreRouters into Cuba and continue with the Armonía project. Coolab also went ahead until completing the process of homologation of the LibreRouter in Brazil, to which AlterMundi contributed by developing the manual required by ANATEL, compiling documentation and providing technical support for the agency's supervisory group. IBEBrasil and AlterMundi have also continued to do joint tutorials and translations, and many of our organisations are still testing the LibreRouter in their networks and even acquired new equipment for new projects.
The collaboration continues, from technical to emotional support. Although the project ended because it had concrete timeframes, resources and goals, the life in common of Latin American community networks and their partner organisations has a long road, nourished by our relationships, work and joint strategies, of which the project and other APC support are a part. There are still interactions between our organisations and networks, there is still the Cumbre Latinoamericana de Redes Comunitarias (CLRC) which is a regional watering hole to network and share among peers, there is still our friendship and desire to continue walking together.
There continue to be concrete projects that link us together and that also accompany the birth of new organisations and new community networks that nourish the collective while also being nourished by it. This was a complex year in many ways, there are also super-powerful things happening in our collectives, and the meetings and joint projects of 2019 gave us an important boost to continue forging ahead.
"What stuck with me the most was the fun, the fellowship, the family warmth of our meetings, the caring handling of our collective times together, the responsible confrontation of the challenges and tense moments, how the Latin American family grew, the participation of young people in the open spaces of each meeting, and the mushrooming of conversations about gender and equitable dynamics (not only planned, but especially the spontaneous ones that use current issues to tear down old structures). I had a lot of fun and the face-to-face meetings were one of my most powerful sources of energy in 2019." – Jésica, AlterMundi
"The opportunity to get to know each other better, to work collectively, to share experiences and to forge friendships that we had during 2019 gave us the energy and encouragement to move forward in our community networking processes in this challenging year of 2020. Despite the distance, we continue to learn from each other and strengthen this great network of networks with bonds of trust and affection." -- Lilian, Colnodo
About the project: ORCAL is a joint initiative of Latin American community networks and network builders to reinforce their individual and collective sustainability through three objectives: 1) political advocacy to legalise community networks and facilitate access to universal service funds and radio spectrum; 2) collective, organised implementation of LibreRouter technology, including homologation; and 3) strengthening the regional integration of the network of community network organisations and mutual support for community network deployment projects.