By By Internet Society and APC
Published on
Page last updated on
Join us for the third session of the Virtual Summit on Community Networks in Africa 2021-2022 that will take place on 26 January 2022 at 12:00 to explore strategies and tools for implementing billing solutions in different initiatives. Register now.
The community networks movement in Africa is growing and community networks are increasingly looking for tools and resources to enhance their operations. As they evolve, sustainability and satisfying users becomes key. In addition, managing financial resources and charging appropriately becomes essential in the operations of many community networks.
In this session, we will discuss some ideas and experience in community network billing solutions and infrastructure. The objective of this webinar is to discuss community network billing tools, solutions and how community network operators could address shortcomings in this sector. It will address the following questions:
Why is billing infrastructure essential for sustainability?

What billing tools are popularly used and why?

What are the challenges and shortcomings with regards to billing?
Featured speakers and panellists
James Gondwe, Founder and Executive Director, Centre for Youth and Development (CYD)

Stephen Fosu, IT Head, Presbyterian Hospital Donkorkrom

Barrack Otieno, Director, AHERI Community Networks

Heiko Rehm, Founder, PYRAMITE Ltd
This webinar is organised by the Internet Society in partnership with the Association for Progressive Communications (APC) through the Program Committee of the Summit on Community Networks in Africa, and will be hosted by the Internet Society.
Find out more information here and register here.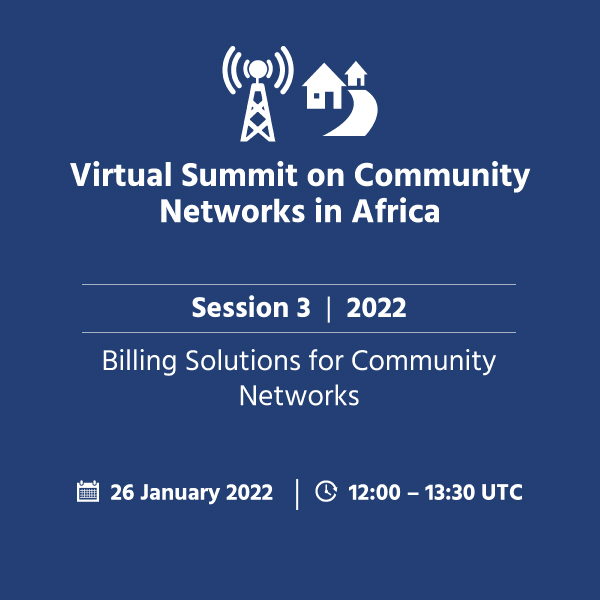 More about the Summit
To foster learning, networking, knowledge and experience sharing on this issue, community network operators in Africa started gathering in 2016 at an annual summit. While the first editions of the Summit on Community Networks in Africa were held as face-to-face events, in 2020, the COVID-19 pandemic made this impossible and led to a shift to a virtual summit comprising a series of webinars that took place over the course of several months in 2020 and 2021, continuing in 2022.
The webinar series planned for the Virtual Summit on Community Networks in Africa season 2021/2022 is being organised by the Internet Society and APC in partnership with other organisations working to build and strengthen community networks in Africa. Find out more about the previous sessions of this cicle:
Previous season
The 2020/2021 season of the Virtual Summit on Community Networks in Africa consisted of five webinars revolving around growing community networks in the continent, focusing on the following themes: