By Hija Kamran Publisher: Digital Rights Monitor/Media Matters for Democracy
Published on
Page last updated on
This article was originally published on the website of Digital Rights Monitor, an initiative of Media Matters for Democracy, an APC member organisation in Pakistan.
As Pakistan deals with the constantly increasing number of coronavirus cases with each passing day, this pandemic is also revealing societal imbalance that advocates of digital rights have been talking about for years. Where the government is slowly moving towards implementing lockdown across most of the country and encouraging people to employ social distancing, a long-standing issue of unavailability of quality and affordable internet has come into light.
On March 26, a hashtag #ShameOnTelecomSector started trending in Pakistan. The campaign, initiated by Farhan Virk, one of the founders of Pakistan Tehreek-e-Insaf (PTI) social media wing, aimed at mobilising people on Twitter in demanding subsidised and free internet packages during the Covid-19 epidemic as students access online classes and employees work from home.
Virk, who regularly directs PTI supporters to trend hashtags through prompt "grab your keyboards", wrote on Twitter, "Guys, Grab your keyboards and start trending #ShameOnTelecomSector…" He attached a screenshot of this story from TelecomPaper – a telecom research and publishing company based in the Netherlands, highlighting Telenor Hungary offering free 100GB data to its subscribers. Virk further wrote in his tweet, "our telecom sector is doing zero to support our country in this tough time."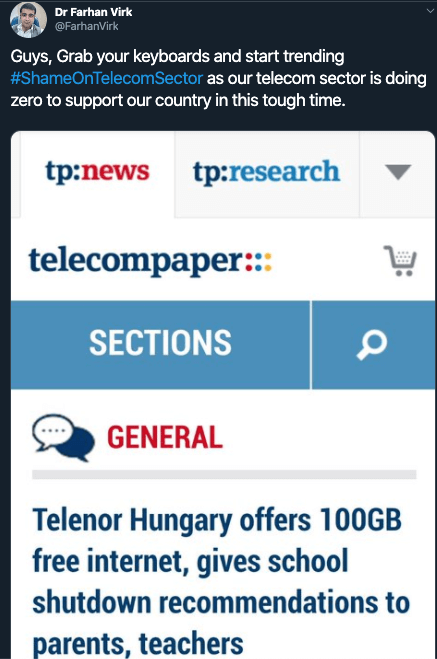 Inaccessible and unaffordable internet remains one of the issues that a major chunk of Pakistan's population faces, resulting in a digital divide on the internet. Where the Pakistan Telecommunication Authority (PTA) noticed a 15 percent increase in Pakistan's internet traffic since provincial governments announced lockdown across the country to mitigate the threat of spreading of coronavirus, directing masses to the internet for studies, work and entertainment, inaccessibility continues to be a hindrance for those who live in areas where either the coverage is unavailable or the internet is unaffordable.
And although telecom companies in Pakistan are working alongside the government to raise awareness around coronavirus and its precautions, like changing the ring tone to the coronavirus awareness message, these corporations have done little to offer relief to the individuals displaced from their universities or workplaces that were their only source of access to the internet. As pointed out by individuals on Twitter, affordable internet packages could have been a potential offer of telecom companies in times of crisis.
And while this is a valid demand, another hashtag #WeRejectOnlineEdu was trending parallel with #ShameOnTelecomSector, further confirming class inequalities that frequent in Pakistan and became evident during a global health crisis. The students took to Twitter to demand suspension of online education given the unavailability, unaffordability or lack of good quality internet as they return to their homes during coronavirus outbreak. One student wrote, "Do we have internet access in all parts of the country? No! Are these online lectures effective like the regular interactive ones? No! Then how can our universities think of imposing such [a] system upon us! It's our right to ask for what's best for us and we will. #werejectonlineedu".
Where the world is adopting online education in the wake of the need to maintain social distancing, the assumption of authorities and in extension, universities, that everyone has access to the internet readily available at their disposal is unfounded, especially in a country like Pakistan where the class divide is clear in every social setting, more so in acquiring guaranteed rights.
Amel Ghani, a Program Manager at Media Matters for Democracy, says, "Students who mostly live away from their homes, on a budget, or do not belong to a rich household, are at the receiving end of a broken system of digital inequalities that should have been fixed as a basic human right years ago, something that the advocates of equal internet access have been demanding for a very long time." She adds, "Affordable and quality internet is a basic human right in today's world, and the authorities should guarantee its availability as they deal with the coronavirus in the country."
Access to quality, fair, affordable and open internet is a basic right of every individual, parallels of which can be found under the Constitution of Pakistan, and further in the international treaties and declarations like the Universal Declaration of Human Rights that Pakistan is a signatory of. And in the light of this, it's the government's duty to ensure this access for its citizens, especially in the times of crisis.
http://digitalrightsmonitor.pk/coronavirus-crisis-highlights-digital-divide-in-p…