By Débora Prado

Published on
Page last updated on
"I want you to imagine that you are entering in a big, big mountain with no connection at all, no mobiles and no electricity. I want you to also imagine that in this community each home is between eight hours to two days of walking distance from each other." This is how Kemly Camacho, co-founder of the Sulá Batsú cooperative, introduced the context of around 800 people living in the Alto Pacuare – a beautiful mountain region criss-crossed by the eponymous river in Costa Rica and home to the Cabécar Indigenous community for many centuries – during a session in this year's Internet Governance Forum (IGF).
IGF is the United Nations' most significant multistakeholder event with respect to internet governance and it was no coincidence that Kemly Camacho began her speech in this way. Understanding the different realities lived in the territories is crucial to show the inequalities of access, considering most of her audience probably lived in very different and privileged circumstances. But that's not all: throughout her speech she also pointed to the Cabécar community's range of knowledge, technologies and ways of living in relation to their environment. Bringing the perspective of the Cabécar community, with their consent, was an important reminder for building internet governance that takes this diversity into account.
And in this sense, we all have a lot to learn from an inspiring project carried out by Sulá Batsú in this community, in partnership with the Alto Pacuare Cabécares Women's Association in Costa Rica. Together, they built a radio network for local communication and a platform to gather and archive women's wisdom in their own language– the Cabécar. All this in a process aiming to mobilise technologies and communications to strengthen local women's voices and agency, while reflecting on the potential impact of being connected in the internet. Overall, this project has had significant positive impact both on the community and Sulá Batsú and this partnership is still seeding change.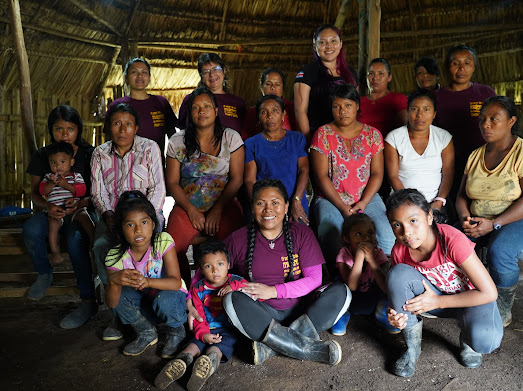 An activity of Sulá Batsú and the Alto Pacuare Cabécares Women's Association in 2023. Sulá Batsú act through different lines of work: digital technologies, art and culture, management of knowledge and solidarity economy. Their partnership with the Women's Association is still ongoing.
Negotiating with the white man's technologies
As a matrilineal culture, the elders of the Cabécar territory of Alto Pacuare are the guides of their people. "They are the heads of their extended families and are the ones who help to decide what to plant, when to harvest, what animals to raise, among many other fundamental aspects of family and community life," explained Sulá Batsú and the Women's Association in a report about the project Local Networks initiative, The Women's Antenna in the Cabécar Territory of Alto Pacuare, carried out in 2022 to complement the work undertaken by them since 2018 in this community.
These women elders, along with other women from the community, decided to form the Alto Pacuare Cabécares Women's Association almost 10 years ago to support each other and start doing community projects together. Today, the association is made up of 30 women leaders.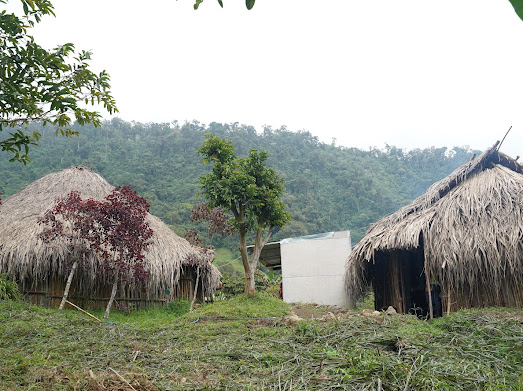 One of the women's projects was the construction of the Jutzini, which means "women's house" in the Cabécar language, and is their own physical space to come and talk to each other. Today, the Jutzini hosts their base radio.
Also, for many years, these leaders have been very concerned about the impact the internet could have on their territory and culture, which has been preserved for more than 500 years in the region despite colonisation in Central America.
But what is the so-called internet? How does it work and what can happen with its arrival in this community? The women from the association considered it very difficult to make decisions and to guide their people in relation to a completely foreign technology, which they call Okamasuei – or "technologies of the white man" or "technology that does not occur in nature" in the Cabécar language. They were also concerned about the risks of internet connectivity being used for the theft of their ancestral knowledge for other people's personal or business profit – as has happened with many other Indigenous communities around the world. But knowing that, for better or worse, the internet would inevitably arrive, they want to know more to understand how it works and how they could negotiate with the Okamasuei in a way it could be useful for their people and culture.
With a history of partnership with the Sulá Batsú cooperative, the new project emerged as an opportunity in 2022 to exchange knowledge and build a communications infrastructure to be managed by women and with a strategy informed by the needs and interests of their community.
The fact remained that internet deployment materials are in languages that are not theirs and the knowledge processes far removed from their culture was not helping this community in making an informed decision as these women desired. "Imagining them is very difficult. As difficult as it is for us to imagine walking in the mountains, without light, without a path, for 10 or 12 hours without getting lost in the midst of plants and animals," as Kemly Camacho put it. "We used metaphors based on nature, models made with local materials, stories, and we gave appropriate names to each of the components," she added. In addition to understanding how internet connectivity works, they also "had long and beautiful conversations around the fire and food about the impact Okamasuei can have on your daily life."
Through a horizontal partnership based on valuing different types of knowledge, some 50 women from Alto Pacuare acquired new knowledge about digital technologies, communication and information strategies, internet functioning, technological sovereignty and extractivism, according to their report. And they use this to make decisions for the development of their community. Sulá Batsú, on the other hand, gained new knowledge to reflect on how to shape communications alternatives from an oral, matrilineal, non-Spanish-speaking culture with extraordinary ancestral knowledge in Costa Rica.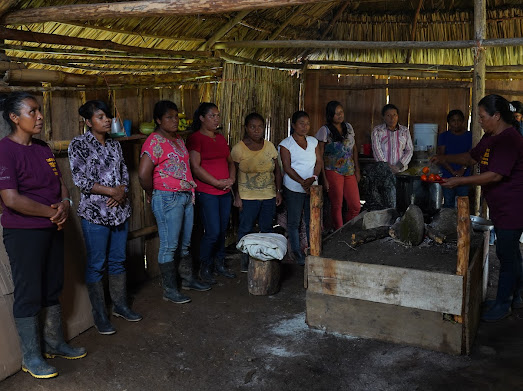 Photos: Courtesy of Sula Batsú
Deciding on the local infrastructure
Following decisions made by the local women, instead of building a Wi-Fi community network connected to the internet, here they prioritised a different community communication approach: a radio network comprising walkie-talkies and a local server to store the community's collective knowledge.
Apropos of this decision, Sulá Batsú explained that the construction of antennas had already generated some doubt from the beginning. The answer to how many people were going to benefit in total, as well as the difficulties in handling devices that are in an incomprehensible language (Spanish or English) generated much disquiet among the women and they eventually decided that they were not interested.
However, the possibility of a network of radios, walkie-talkie style, triggered great enthusiasm. Distributed throughout the territory, in the hands of the women these radios would benefit the 800 people in the community. Information capsules could also be generated and people could communicate both one on one or in groups.
They also decided to have a local server to host an online platform in their intranet. The platform, whose function is similar to a website, gathers and archives local knowledge on different aspects of community life, from crops to natural medicine, and about the Cabécar cosmovision. The content is created by the local people who are in a process of learning about how to use computers. This platform was named Okamasuei.
Their current infrastructure, equipped with 20 walkie-talkie kits, comprises solar panels, batteries, chargers and a radio. The Jutzini – their women's house – hosts the radio base from which audio capsules are transmitted to the community. It has also a solar load centre and local server where the data of the Okamasuei content platform is centralised and shared in an internal network with four computers, and available for access only in the community area. A communication strategy was established based on the Cabécar people's priorities and some commitments, with duties and rights, were disseminated among all of them.
But the technological infrastructure was not the main achievement of this project. Along the way, Sulá Batsú realised that technology could not really be properly developed without a strong women's organisation behind it. "There are really a lot of achievements but I would highlight the how women's leadership has been built from deep reflection on the impact that a totally external technology could have on the community. As also reflection about all the actions of resistance to put into practice and allow what we want, while not to allowing what we don't want," explained Kemly Camacho. "We have gone from thinking that this is a technological project to a shift towards strengthening women's organisation and leadership with the use of technology, but not only with that," she added.
This piece is a version of information shared by Sulá Batsú as part of the project, Connecting the Unconnected: Supporting community networks and other community-based connectivity initiatives, for the Seeding Change column, which presents the experiences of APC members and partners who were recipients of funding through "Connecting the Unconnected" grants and of subgrants offered through other APC projects and initiatives.
Did this story inspire you to plant the seeds of change in your community? Share your story with us at communications@apc.org.