By Maja Romano
Published on
Page last updated on
"E-waste is one of the fastest-growing waste streams in the world," according to APC's Guide to the circular economy of digital devices. "The piles of digital scrap we see in landfills are a symptom of unsustainable decisions made by manufacturers, consumers and government policy makers." Created as a resource for civil society organisations wanting to transform their day-to-day use of technology, the guide explores the evolution of our digitally connected world through research and detailed case studies.
In part two of this special series on Our Circular Future, we spoke with Florencia Roveri, who works on policy and communication at APC's Argentina-based member organisation Nodo TAU. From supporting youth with future e-waste projects to exploring the challenges to electronic waste treatment, Nodo TAU has been advocating for better ICT recycling practices in the community.
This interview has been edited for clarity and length.
In the guide to the circular economy you presented a case study on the problem of e-waste management in Argentina. Since its publication, what changes to policies and practices on e-waste have you witnessed in your region?
There is an area of work that is acquiring a certain visibility, related to initiatives that appeal to the "culture of the discarded". There are people working on promoting actions that encourage circularity, from reuse to repair, not only with technology but also with other things such as paper, plastic, cloth, appliances and glass.
On regulation, we see local governments are initiating more specialised classification of waste. We now have local governments of small cities building on our experience to develop initiatives for the treatment of e-waste. People are always asking, "What can I do with this computer that I'm not using anymore?" They want to donate them, but we from Nodo TAU don't have the capacity to receive them from individuals because that needs another kind of processing. But we see that there is a need for that and local governments, even from small cities, are taking up this issue and starting to develop it.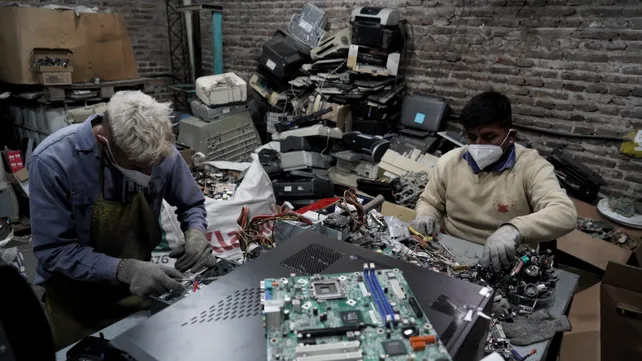 [Image: E-waste being processed at the Nodo TAU treatment plant. Photo courtesy of Nodo TAU.]
Our local government sometimes schedules the collection of equipment from citizens, but it can be problematic if that equipment is not then correctly treated. So that is an aspect that becomes an even bigger danger, because the collected and untreated equipment is even worse than the equipment in the houses in which it isn't used. We call these the "policies of as if". We act "as if" we collect but we don't collect, "as if" we treat but we don't treat. It happens when collection and treatment is done in a careless context, or treated illegally, and that is a problem.
There are good intentions in collecting used equipment. For example, there is a local shop that sells home appliances and their campaign is, "Bring us your old washing machine when you buy a new one." They are promoting their new machines, but it is not clear how they treat the used equipment they receive. They offer to help people resolve the problem of what to do with their old machines, but the fact is that you have to guarantee that you are treating it correctly. So that can be a very bad practice if not done well. In APC's guide to the circular economy there are several parts about how to implement this processes.
You gave a very interesting history in the guide about how you got involved in this work and the challenges of sustainability. Looking at where we are today, have the circumstances changed?
The challenges we mentioned in the case study are still present – mainly the sustainability of the e-waste management plant. A group of young people from popular areas is developing a social and work insertion programme through the plant, which is really important and is supported by a provincial and local municipal programme that also helps the sustainability of the project.
The plant also gets income from its work, such as selling recovered computers and materials. There are also other services like the correct treatment of waste for the private sector. That is a challenge, because it is more difficult to increase the consciousness of the private sector regarding their responsibility here.
There is also the challenge of scale, that is, increasing the scalability of the plant. We also have two other aspects we mentioned in the case study related to the legal framework that exists in Argentina and in Santa Fe, our province. There is regulation that accompanies the work of the plant and regulates the treatment of e-waste but it is not being completely implemented. Another challenge is the traceability of the materials, which is important in the treatment of e-waste. That is due to the fact that several stakeholders that are involved in the exchange – buyers, for example – are still in informal areas of the local economy.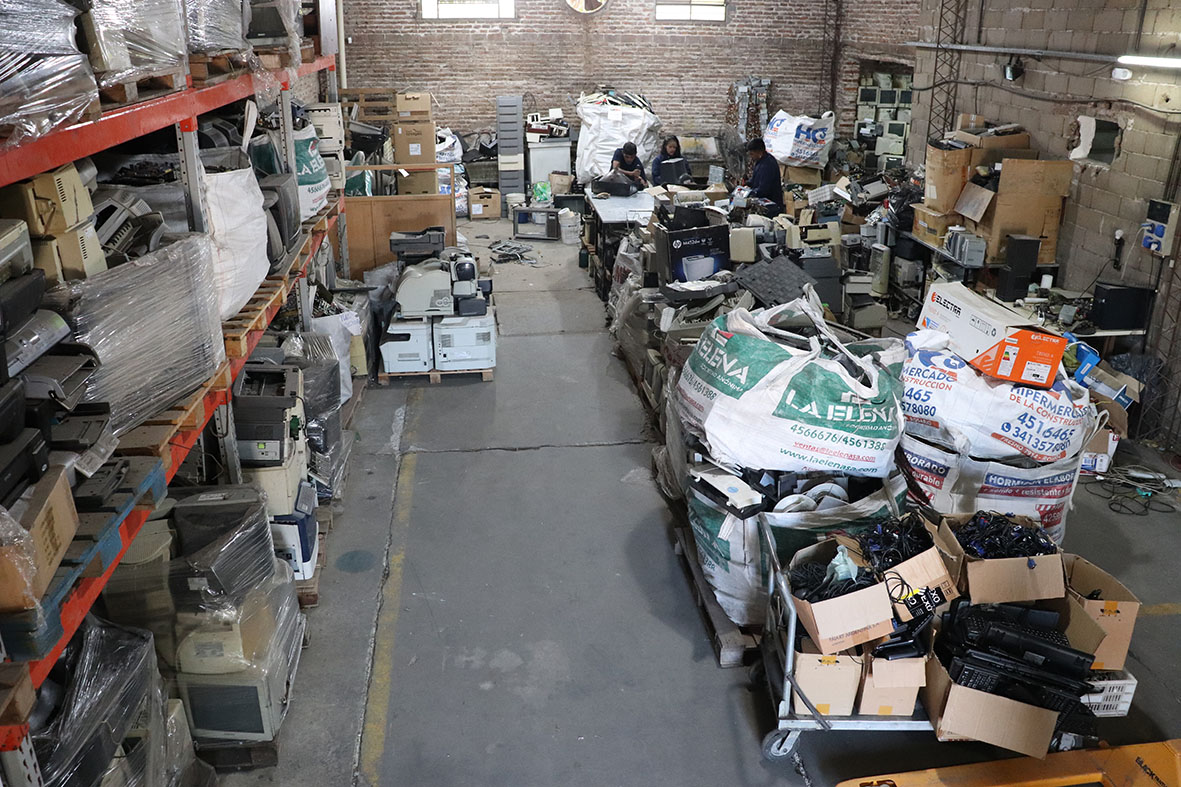 [Piles of collected e-waste await processing at the Nodo TAU treatment plant. Photo courtesy of Nodo TAU.]
There is one aspect that is really different from the moment of our 2021 case study, and that is the group of young people currently working in the plant (within the framework of the provincial programme) are in the process of becoming an autonomous cooperative. Nodo TAU is accompanying this process very carefully, evaluating, participating, encouraging them to decide for themselves. It's really a very interesting moment.
What are some of the inspiring circular economy initiatives developing in your region?
There are several examples locally that are promising. There are some initiatives working with reused plastics for 3D printing, for example. One group is getting attention from the local engineering university for an initiative in which they produce plastic objects from reused plastic. It's nice but I don't know what impact these kinds of initiatives have.
There are also other initiatives in which we see government or big institutions like universities focusing on the possibility of recycling. We have noticed that the circular economy option is present in several policies, not only from government but also from these institutions that have real engagement in the local economies, such as universities.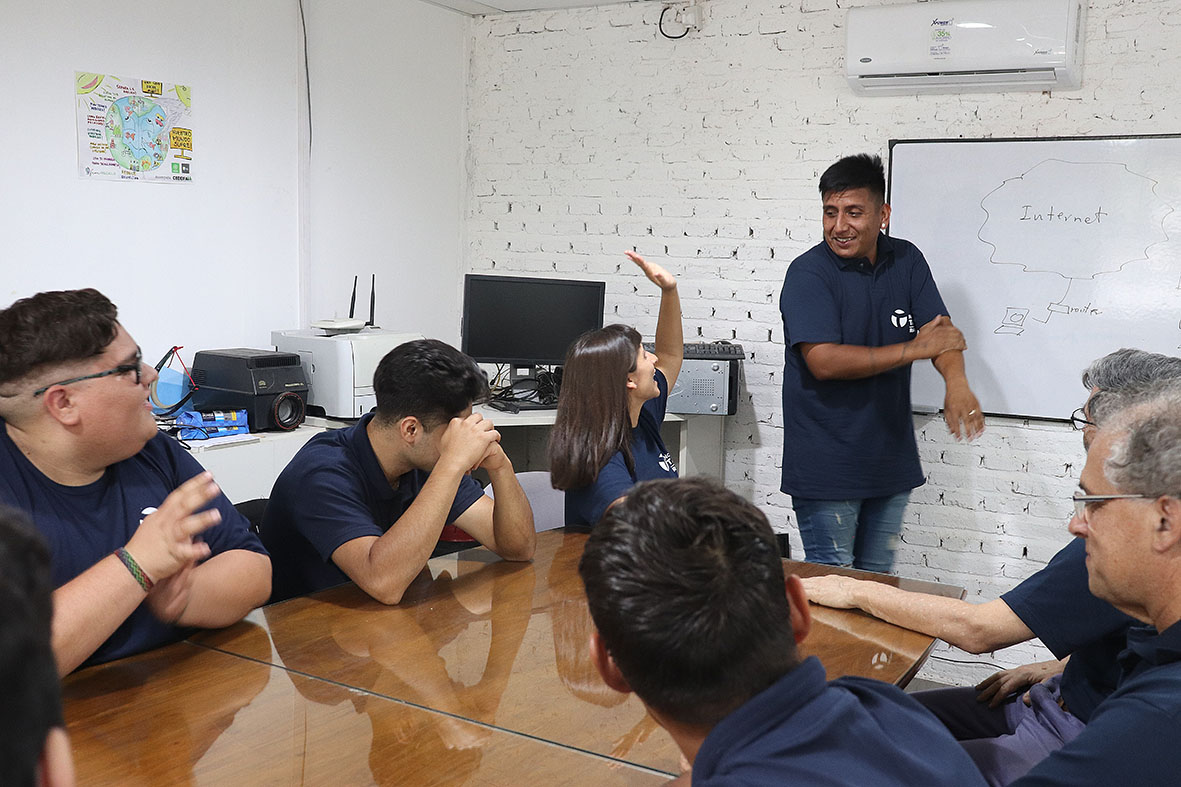 [Image: Training on e-waste management by Nodo TAU. Photo courtest of Nodo TAU.]
We are working now with a programme that is really interesting – Comunidades digitales – in which we work with the university, local government and local ICT companies. We assist companies to donate computers. Nodo TAU repairs or treats these computers and the repaired computers are destined for social spaces coordinated by local governments for digital inclusion. They are not new ideas because we have a history of working in this field, but we know that this is related to the potential of developing the circular economy among all stakeholders, particularly in the private sector.
How have you used the guide so far and what would you like to see developed further?
We shared the guide locally when it was launched, especially with environmental organisations. It was really a very interesting and wide project and it is really nice to see how it was built and what the results are. There are some organisations that are working on encouraging local governments to develop policies from open government and citizen participation; that is the kind of organisation we connected with as well, because they are actively addressing environmental policies.
In the future maybe we could strengthen the local dissemination of the guide in more academic areas. I think this would be really interesting and we did not manage to do it when the guide was launched.
In terms of newer guides, the inclusion of cases is really interesting. We know our case but I really enjoy knowing all the other cases that were described and I really appreciated the organisation of the APC guide in the different moments of the life cycle of ICTs. I think it's really interesting to have found cases and examples that are related to each of them, that is really very illustrative. It would be helpful to reinforce recommendations and share more campaigns that could inspire local adoption of these practices.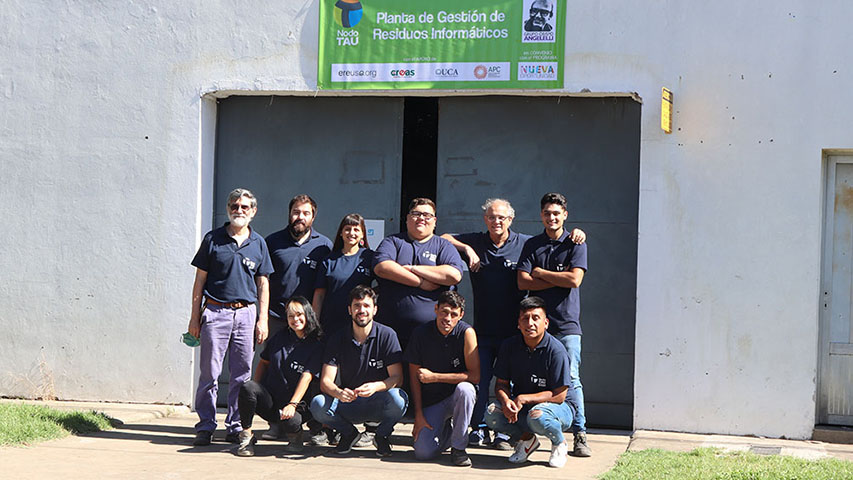 [Image: Members of the Nodo TAU team gather at the e-waste treatment plant. Photo courtesy of Nodo TAU.]
I have two experiences to share. First, in 2020, during the pandemic, we collaborated with Colnodo [an APC member organisation in Colombia] on a capacity building initiative that explored various aspects of ICTs and the environment. Secondly, we learned of a regional office of the International Labour Organization holding an open and informative capacity building around the issue. So maybe it would be interesting to think about an instance of a more guided dissemination, perhaps in the format of a broad training process. I think these are issues that a lot of groups in society would appreciate following, since the guide is really very didactic.
What advice would you give an organisation starting to engage in advocacy around technology and the circular economy?
Our story had a lot of moments in which the plant was possible and then several difficulties arose, and it was really interesting to see how the project became concrete. For that we had support in some instances from local government but in other moments it was through working with social organisations that are dealing with other social needs.
So my one piece of advice would be to be aware of the possibility of addressing several needs and taking care of several aspects of community, because we feel our strength comes from how this project coordinates care for the environment, the possibility of getting work for a group of people, and the possibility of recovering computers for social use. We enjoy this possibility of addressing several social needs and integration with public policies.
Our Circular Future series
Further reading: APC's Guide to the circular economy of digital devices describes the concepts and processes of circularity and summarises the key challenges and opportunities, including for policy advocacy.
Maja Romano works with APC's communications team and coordinates the publication of the
Global Information Society Watch
(GISWatch) report. She is a socio-cultural anthropologist and writer with a passion for community engagement, social justice and digital rights, which she uses as a lens to inform her writing and activism.