By Ashnah Kalemera Publisher: CIPESA
Published on
Page last updated on
Human rights review mechanisms such as the United Nations Universal Periodic Review (UPR) and the Africa Commission on Human and Peoples' Rights (ACHPR) provide a unique opportunity to address human rights concerns in African countries.
The cooperative nature of the review mechanisms allows different stakeholders to make country submissions for consideration by the Human Rights Council (HRC) at the UN or at sessions at the ACHPR, resulting in country recommendations for action. For the UPR, the immediate outcomes of reviews can include country adoption of recommendations made by other countries. At subsequent reviews, countries are expected to state what they have done to fulfil obligations and commitments to recommendations from previous reviews, including any challenges faced in implementing the commitments.
Currently, there is limited participation by African civil society in the UPR process despite the UPR providing a framework within which activists and human rights defenders can lobby governments to promote different rights and freedoms. In particular, there is limited work by African actors to promote internet freedom through the UPR.
In the period 2014-2016, stakeholder submissions to the reviews of African countries were dominated by international organisations and human rights bodies such as ARTICLE 19, Human Rights Watch and Amnesty International. While a number of national human rights commissions of the respective countries make submissions, there has been limited input from Africa-based civil society. The figure below gives an overview of the varied level of participation by Africa-based organisations in UPR stakeholder submissions of select countries on the continent. (Source www.upr-info.org)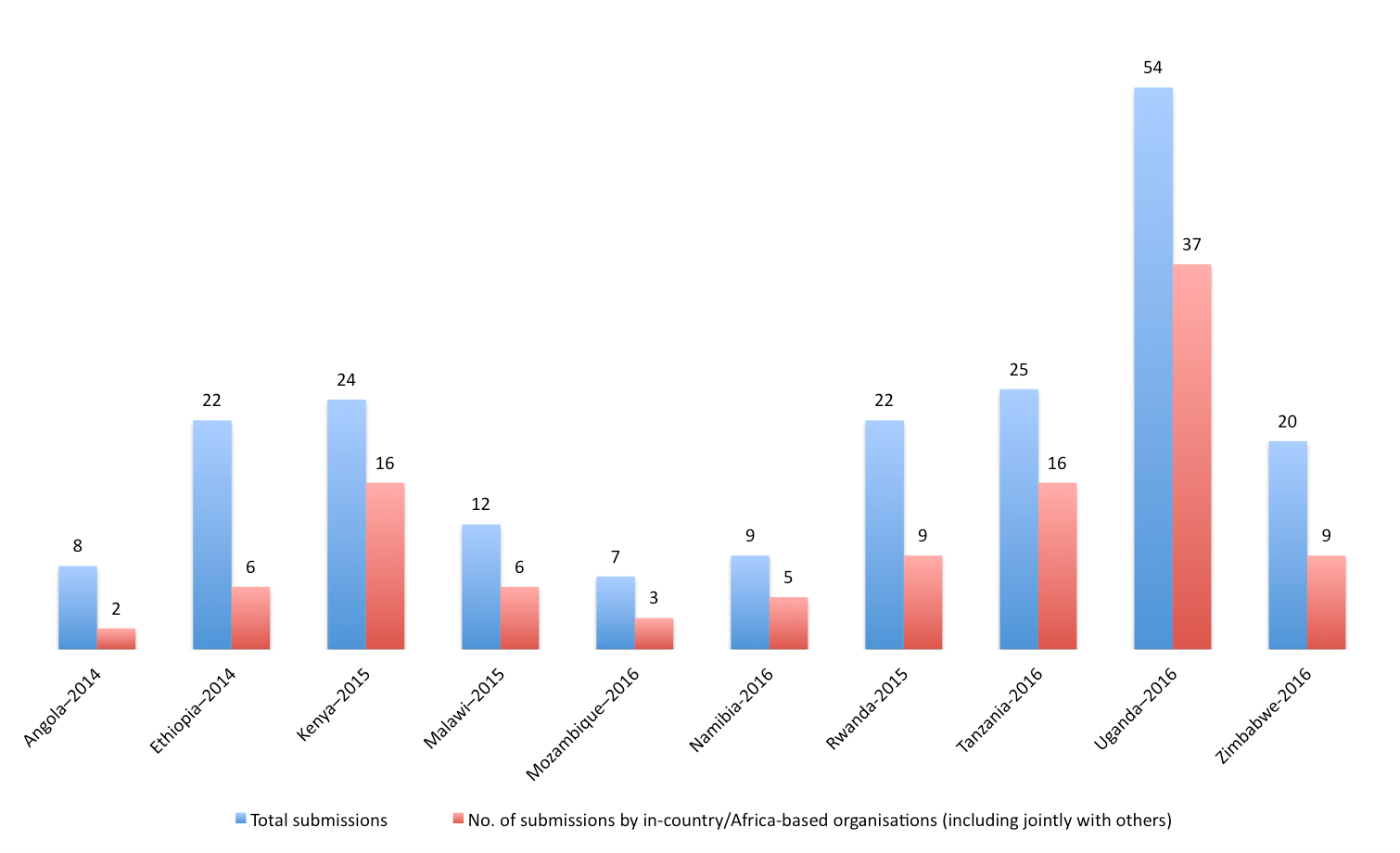 Meanwhile, submissions remain focused on so-called offline rights including women's and children's rights, land rights, sexual rights, the death penalty, health rights, education rights as well as the rights of refugees and persons with disabilities. A growing but limited number of submissions are focused on both online and offline rights including on access to information, access to the internet, free speech and media freedom, freedom of assembly and association, and privacy.
Various factors play a role in the limited participation of African civil society in the UPR processes, including low awareness among organisations of the cycle periods and opportunities to make submissions or statements. Further, capacity to make individual submissions may be limited (the majority of the in-country/continent-based organisation submissions in the chart above were joint submissions with international human rights organisations). This gap in skills and knowledge presents an opportunity for interventions aimed at research, training and support for African civil society to deliver stakeholder submissions, particularly on digital rights with reference to offline rights.
There is an opportunity for in-country follow-up and advocacy on recommendations – both those adopted and those deferred. Further, there is opportunity for stakeholders to organise side events at the UPR to promote dialogue and engagement not only with government representatives for countries under review but also with other governments who have progressive records on internet-related rights that can contribute to related recommendations. For stakeholders not able to attend sessions in person, there in a provision to follow the proceedings remotely via live broadcast. Social media holds much promise in ensuring wider audience reach for advocacy and information dissemination – see for instance #UPR26.
Accordingly, from 2018 to 2021, CIPESA, Small Media and a coalition of regional partners will be working to support civil society organisations across Africa to engage with the UPR process through research, capacity development and advocacy. The 15 African focus countries are Angola, Ethiopia, Gambia, Kenya, Liberia, Malawi, Mozambique, Namibia, Nigeria, Rwanda, Senegal, Sierra Leone, Tanzania, Uganda and Zimbabwe.
The first engagement for the project was conducted at the Internet Policy in Africa Research Methods workshop which was held in Kampala, Uganda from 26 February 26 to 3 March 2018. Related sessions during the workshop introduced participants to core processes of the UPR and ways in which the UPR can deliver internet policy impact. Furthermore, participants were equipped with skills in research, strategic communication and advocacy through data-driven campaigns for UPR engagement.
Read "Women's Rights and the Internet in Uganda" submitted by APC, CIPESA and WOUGNET for the 26th Session of the Universal Periodic Review – Uganda.
https://cipesa.org/2018/06/internet-freedom-in-africa-and-the-universal-periodic…