By APCNews

Published on
Page last updated on
"People deeply depend on the government's epidemic prevention measures, which mostly make use of private data surveillance and involve the digital identity system."
With a commitment to "open source, open data and open government", Taiwan-based non-profit organisation Open Culture Foundation (OCF) embodies the principles of its name. Founded in 2014, OCF's main goal is "to support local communities advocate the use of open technologies in broader sectors, including open source software, open hardware, and open data."
In 2020, with the COVID-19 pandemic sweeping across the globe, accessing critical services like healthcare, education and employment, along with accurate information, became a matter of necessity. Governments raced to adapt their practices to respond to this digital demand. In the pursuit of convenience, potential risks were often overlooked as hastily developed protocols were pushed forward without proper safeguards to protect and uphold human rights.
A regional approach to a regional problem
At a time when many countries faced the need to streamline access to public services, in Taiwan, as in many countries in the region, electronic identification (eID) cards were seen as an easy answer to this need. The idea was first proposed in 1998, when the Taiwanese government encouraged the adoption of digital ID cards that would serve multiple purposes: identification, health insurance, debit cards, biometric storage and more. Due to public concerns around security and data protection in the face of such sweeping digital functions, this project was postponed. However, when the latest iteration was proposed, combining just two functions – identifications cards and electronic signatures – it flew largely under the radar of the public.
The perceived though inaccurate assumptions around the safety of the new digital ID cards carried significant risks, including a lack of safeguards to prevent private data leaks, exacerbated by the hastiness and lack of oversight with which they were being pushed through. In response, OCF joined a network of legal experts, technologists and civil society groups that called for the postponement of their rollout until laws could be implemented for the protection of private data. A lawsuit was filed against the Taiwanese government, with OCF acting as a technical consultant to point out the risk of digitising private information, backed up by case studies of several international examples. In addition, a workshop brought together more than 70 participants to discuss the pros and cons of digital IDs. According to OCF, "We tried to reach out to people with cross-domain talent in order to postpone the rollout of the eID cards with the lesson learnt in international cases."
This project by OCF to "bring up Taiwanese citizens' awareness about the risk of the private information digitising with international cases" was supported through an APC subgrant. As part of their campaign, OCF conducted extensive research not only in Taiwan, but in four neighbouring Asian countries: South Korea, Singapore, Japan and Malaysia. Whereas previous case studies undertaken by the Taiwanese government examined the use of digital ID cards in Europe and the US, this research presented a new and relevant perspective specific to the region, highlighting the experiences – and risks – of digital IDs in Asian countries.
#digitalidentity A new electronic identification card (eID) will roll out to every Taiwanese citizens as early as the end of 2020. Is it a good idea? OCF brings up 4 key points and asks the government to pay attention: https://t.co/SRNCOiuc1w pic.twitter.com/USaZROdn3o

— Open Culture Foundation 開放文化基金會 (@OcfTaiwan) July 9, 2020
The human rights risks of digital identification
As OCF studied the legal context for the use of eID cards, they discovered significant gaps in Taiwanese law regarding their oversight. Notably, the Household Registration Act, which governs the National Identification Card system, pertains only to paper versions of national ID cards; it has no bearing on any processes or aspects of using digital ID cards. In addition, while citizens are legally obligated to carry their ID cards at all times, the Radio Frequency Identification (RFID) functions on the new cards raise the risk of identity and data theft. Furthermore, without an independent data protection agency in Taiwan, citizens have no way to claim their rights on personal data and privacy. As the CEO of OCF has pointed out: "How to balance disease control and privacy needs? How to avoid overly expanding government power through digitalisation? These are top issues of concern for every Taiwanese citizen during the COVID-19 pandemic. This is also the main reason for OCF to dedicate ourselves in the policy debate about eID."
OCF and its partners recognised that in order to flag the risks of rolling out the new ID cards, it would be necessary to bring civil society perspectives to the government to push for the creation of protections. As they noted, 88.3% of Taiwan's population over age 12 uses the internet, and more than 60 cases of fraud occur each day, with the elderly being particularly vulnerable to exploitation due to inexperience with digital services and their security risks. Generating public pressure would be challenging, however, as OCF's research found that public awareness on digital risk and data privacy was insufficient, with many blindly relying on the government for data protection.
As the pandemic intensified and services were increasingly moved online, these problems became greatly exacerbated. OCF noted, "People deeply depend on the government's epidemic prevention measures, which mostly make use of private data surveillance and involve the digital identity system." To address this knowledge gap, OCF published a series of articles highlighting the risks of digital ID cards, which were grounded in case studies examining the different methods and risks associated with digital ID systems in neighbouring countries. Entitled "On the Use of Digital Identity in Asia", the reports looked at digital IDs in Taiwan, Japan and Malaysia, and Singapore and South Korea, and were published in English and Traditional Chinese.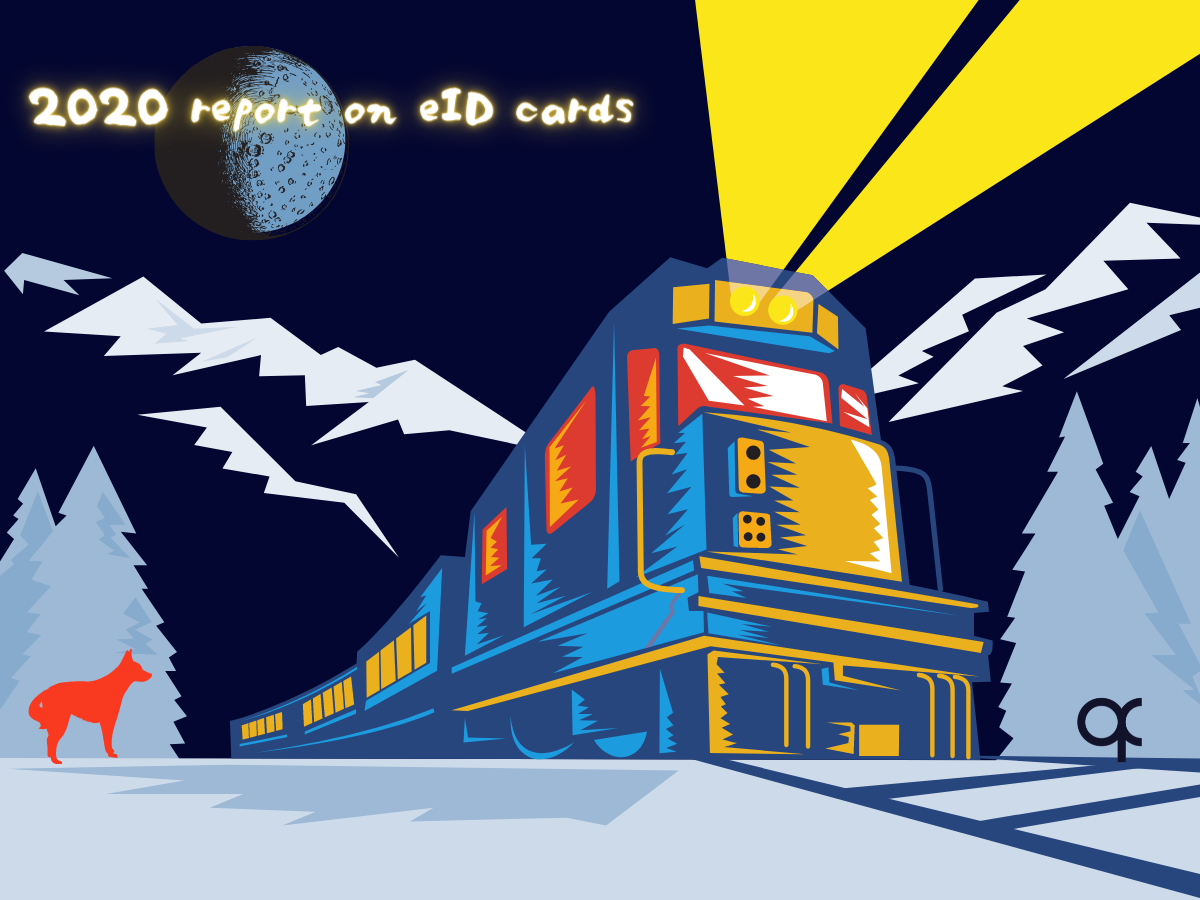 Image by OCF, used under CC BY 4.0
By identifying legal gaps that left the public vulnerable to human rights infringements through massive data leaks, OCF increased public awareness on the potential problems with digital ID cards and put greater pressure on the government to reconsider their implementation.
Policy recommendations and persuasive campaigning
With their case studies and research to back up their position, OCF and civil society partners embarked on an ambitious campaign that involved social media, press conferences, published content, television programmes, media events and numerous public events, with a view to putting increasing pressure on the government.
OCF's requests included the following key policy recommendations:
Don't force citizens to switch to an eID card: Preserve the right to continue using non-digital ID cards.

Don't force eID cards to be carried on person: Avoid the risk of unnecessary or predatory usages.

Establish an agency for data protection and supervision of the eID: Protect an individual's right to privacy.

Open up the source code of the system: Ensure public trust by enabling public monitoring.
Pilot cities enlisted for the eID project across Taiwan picked up on these concerns and recommendations, and started to reject the rollout of digital ID cards one by one. As the campaign gained momentum, OCF's parallel efforts of raising public awareness coupled with pressure on the government came to fruition on 21 January 2021, when the Taiwanese government announced it would suspend its eID policy "until new legislation is able to safeguard privacy and protect information from potential cyber-attacks." This was a major victory for civil society organisations in Taiwan who had been pushing for legislation amendments on data protection and privacy, with OCF's project playing an important role in this success.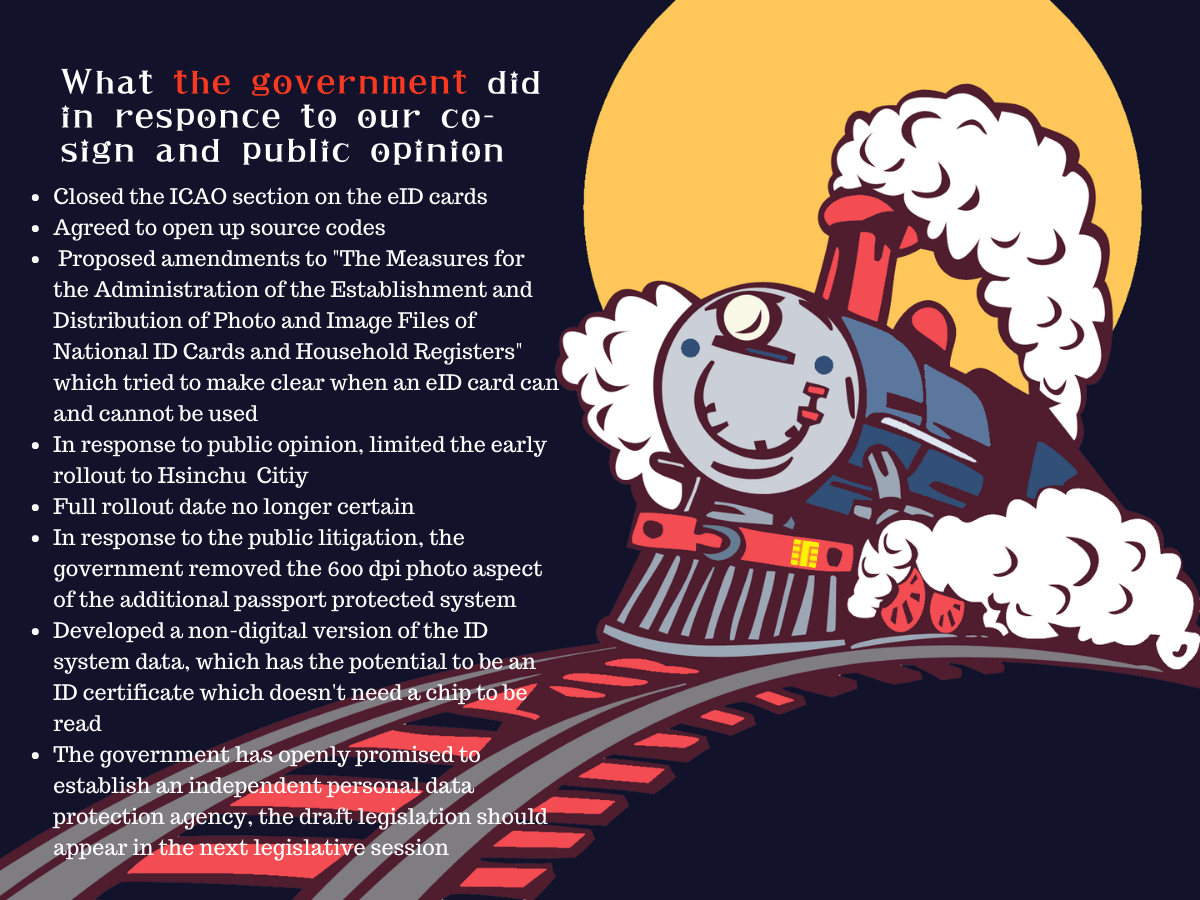 Image by OCF, used under CC BY 4.0
Overall, this campaign sets an excellent example to other civil society groups in the region and globally. By combining multiple skillsets and experiences, collaborating with local organisations, undertaking comprehensive research, using public platforms and ensuring that civil society has a stake in government decision making, OCF has shown that the power of the people can indeed make a significant impact on the implementation of digital rights policies.
Feature Image: OCF shares its work at the g0v Summit 2020 in Tainan, Taiwan. Used under CC0.
This piece is a version of the information provided by Open Culture Foundationas part of the project "Bring up Taiwanese citizens' awareness about the risk of the private information digitizing with international cases", adapted for the Seeding Change column. This column presents the experiences of APC members and partners who were recipients of funding through its core subgranting programme, supported by Sida, and of subgrants offered through other APC projects.
Did this story inspire you to plant seeds of change in your community? Share your story with us at communications@apc.org
Members involved:
Open Culture Foundation (OCF)